Microsoft Office 2010 promises lots of new features and enhancements. This version looks a step ahead of previous Microsoft Office versions. Overview preview has brought forward interesting new features expected to grace Microsoft Office 2010. Here is run down of 10 new features:
1. Improved Picture & Video editing – Powerpoint will have improved and more advanced picture and video editing features. You can perform basic editing and add effects like trimming, fades, reflections to photos & videos.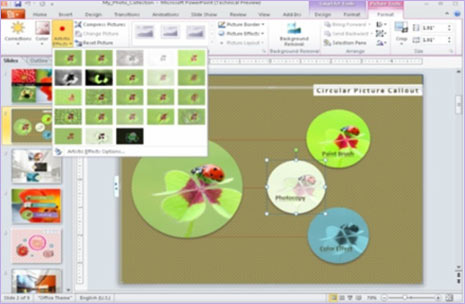 2. Connect & co-authoring – Word 2010, PowerPoint 2010 and OneNote 2010 lets you work on a file with multiple people simultaneously from different locations to brainstorm ideas, control versions better and meet deadlines faster.
3. Office on Web – Now you can work on Microsoft Word, Excel, PowerPoint and OneNote documents online using Office on web and access documents from internet connected phone or computer.
4. Manage large amount of emails – Outlook 2010 improves the tracking and managing of e-mail conversations. It compress your long e-mail threads into a few conversations that can be categorized, filed, ignored or cleaned up within a few clicks.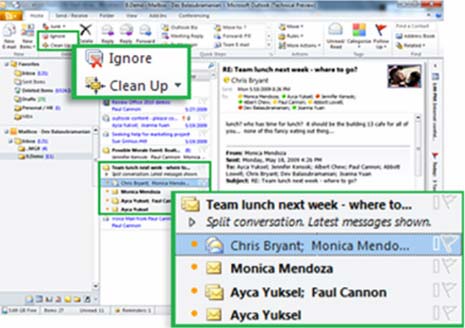 5. New analysis & visualization features – With new data analysis and visualization features in Excel 2010, you can easily track and highlight important data trends.
6. Videos in Powerpoint presentations – With PowerPoint 2010, you can embed and personalize videos within your presentation. The embedded video file can be customized by adding video triggers and styles directly within PowerPoint 2010.
7. Store ideas & notes – With Microsoft OneNote 2010, you get the ultimate digital notebook for tracking, organizing and sharing your text, photos, and video and audio files.
8. Communicate & share – Business users can use the presence icon in Office Communicator when co-authoring in Word 2010, PowerPoint 2010 and Outlook 2010 to see who else is authoring a file at the same time.

9. Faster & easy menu access – The Microsoft Office Backstage view replaces the traditional file menu, helping you quickly get to operations such as save, share, print and publish with just few clicks.
10. Access to work documents – Office 2010 gives you a familiar and intuitive experience across PCs, Smartphones and Web browsers so that you have the freedom to use the system from more locations and on multiple devices.
Note: As pointed by number of sources, Office 2010 leaked on torrets in infected with mallicious code. Avoid downloading it and wait for clean copy availability.