Microsoft is now thinking about kids and has launched Windows Live Messenger for Kids. Strangely, it is only available in German language but it does pack in some cool features and creates environment ideal for kids. It is a web based messaging service that require installation of executable file.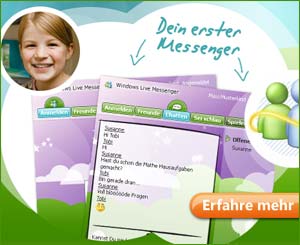 Related – 5 Best All in One Web Based Instant Messengers
Kids use this messenger and parents monitor is all. Parents are in control of account creation, composition of buddy list and much more. It only supports text and emoticons – no file transfer and images.
However, it does have advertisement meant for kids – wonder these are safe for them or not. Checkout Windows Live Messenger for Kids, its German edition – English edition is nowhere insight!