WolframAlpha made quiet a buzz at the time of launch. While the buzz has faded, WolframAlpha is still an interesting and different search engine for those intellectual knowledge based queries. If you are too addicted to WolframAlpha knowledge search, get easy with accessing this search service with following toolbars, gadgets, widgets (besides the traditional URL access method in web browser).
1. Toolbar – You can integrate WolframAlpha within your web browser. It has toolbars for Firefox2, Firefox3 and Internet Explorer6+ all ready for download and use.
2. Search Addon  – If toolbar brings too much baggage, how about installing search addon. It is available for your Firefox and Internet Explorer web browser.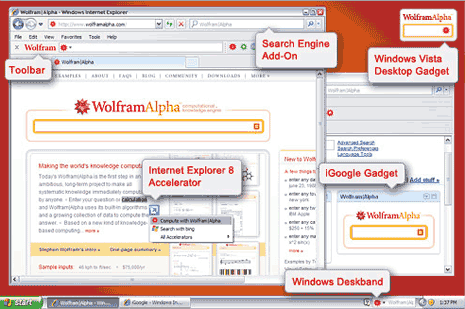 Related: Wolfram Ringtones – Solve Math integration
3. Windows Deskband – How about filling up system tray area on taskbar with WolframAlpha search bar –  Interested? then grab windows Deskband to crowd up your desktop.
4. IE8 Accelerator – If you are updated enough to be using Internet Explorer 8, then get WolframAlpha power using IE8 accelerator.
5. Vista desktop gadget –  Another useful gadget for Vista lovers for quick access to powerful knowledge of WolframAlpha. One more window with oozing information, get it!
6. iGoogle gadget – Get WolframAlpha on good old igoogle webpage. Just one more window you need to fit on your crowded iGoogle webpage.
7. Mac OSX Widget – Why should Window users have all the goodies? Here is WolframAlpha avatar for Mac OSX users in the form of Max OSX dashboard widget, grab it!
Click here to view all the above download option and grab your favorite one. WolframAlpha team looks all busy in churning out different options to allow users to access their knowledge. Hopefully some users would  perform different knowledge searche(s) besides the usual Britney spears, mms scandals, hot pictures – blah blah!