Digg(.com) is a popular social bookmarking website. Recently, it has undergone a makeover with new tweaked look and features. As a results, we also have new digg share buttons that can be displayed on your blog or website. Even digg widget showing digg posting activity has cool new look.
Add new Digg widget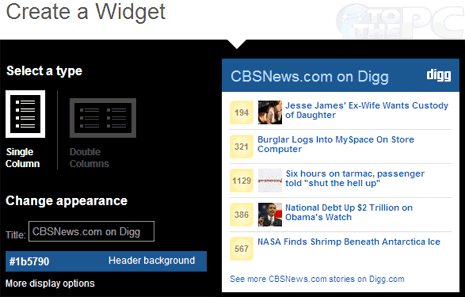 You can use Digg widget generator to make customize widget showing specific digg posts stream. Widget is available in two forms: single column and double column. You can customize and change the appearance of widget as per your blog or website color, looks. Head over to digg widget generator to get code to display it on your blog or website.
Add new Digg buttons

New smart Digg button comes in 4 forms: medium, large, compact and icon. There is also an option to use static digg button on your blog. Grab digg button code to display it on your website or blog.