Looks like everyone is in rush to push forward desktop client for different social networks. We have seen Seesmic for Facebook, Tweetdeck now supporting both Twitter and Facebook and here comes brand new desktop client 'FriendFeed Notifier' to track FriendFeed notification on your desktop.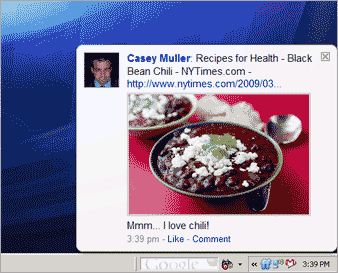 It allows you tol receive pop up message as and when their is activity on your FriendFeed account. You can click on notification window to see more details in usual web browser window. This Adobe Air based application is a handy way to keep track of FriendFeed activity on your desktop.
You can choose to get updates from your Home feed or any of your Friends lists. Download FriendFeed notifier [via] (and Adobe Air) to stay connected with Firendfeed updates on your desktop.