There are number of web apps to spice up Twitter functionality. Here is BubbleTweet that make your Twitter profile very personal and interactive. It adds an introduction video in the form of a bubble. This video bubbles appear and plays video only one time and then vanishes.
To get started, enter your Twitter username and start recording your introduction video using webcam. Make sure your webcan is connected before your enter the username and hit the submit button. After you are done with recording, your introduction video will play to every user who visit your Twitter profile page.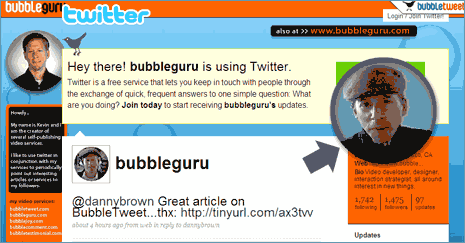 Click here to see example of BubbleTweet in action. Video pops up at the top right part of profile page and vanishes after video playback is over. Head over to BubbleTweet, record your video and flaunt it – need say more?