Websites and blogs can display quick share Twitter buttons for easy sharing of content by users. As of now, we have used third party buttons that enable users on specific website or blog to post and share article links on Twitter. Now you use official Twitter 'tweet' buttons on your blog or website for quick and easy sharing of content on Twitter through your readers.
Generate code to show official 'tweet' button
1. Goto official Tweet button page on Twitter website. Then select type or style of 'tweet' button among: vertical count, horizontal count or no count.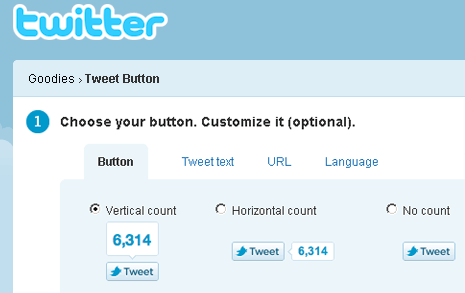 2. Then add upto two Twitter user accounts that will be mentioned in retweeted tweets. First user account will be @mentioned in the suggested Tweet (like via @twitteruser). While second will be recommendation for Twitter user to follow.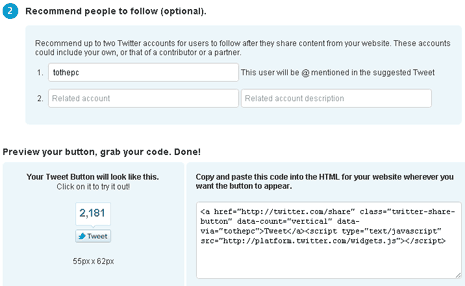 3. Preview your final 'tweet' button. Copy the code and paste the HTML code on your blog or website. If using wordpress, paste code at appropriate place in single.php file.
Video Demo: adding 'tweet' button
These official Twitter 'tweet' buttons are introduced in partnership of Tweetmeme. You may also add tweetmeme button to your website to allow sharing of posts on Twitter. [via Twitter Blog]