Do you want to start fresh by deleting all tweets in your existing Twitter account? This sounds good but how do you plan to implement this? Manually deleting tweets one by one will take hours at stretch and not to mention the boredom it will kick start. Fortunately, there are smarter and quicker ways to delete all tweet contents of your Twitter account without having to delete the actual Twitter account (user ID).
'Twit Wipe' deletes all tweets without any mess
A Twitter account with over 1000+ tweets, wise decision will be deleting existing Twitter account and opening a new Twitter account. But with this step, you will lose your original Twitter User ID. Also, you will lose followers, following and list mentions. Hence, using 'Twit Wipe' service is wiser decision – as it delete all tweets and help your keep the original Twitter user ID, followers and followings.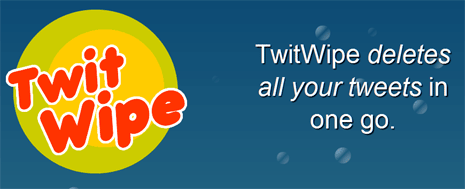 1. To get started, open Twit Wipe website in your web browser (Yes, there is nothing to install – do all the tweet deletion exercise online). Then click 'Sign in with Twitter' button to continue.
2. Once you authorize the 'Twit Wipe' service from your Twitter account, you should see 'TwitWipe this account' button. Click on that button to start the tweet deletion process.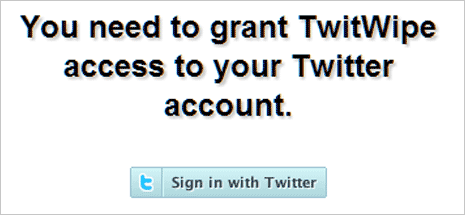 Depending on number of tweets in the account, total time taken to delete all tweets will vary. It may take long (long) time to delete heavy tweet laden Twitter account contents. Anyways, you can always stop and restart tweet deletion as per your schedule.
Once you have deleted all tweets, you can kick start fresh tweet – tweet saga using your existing (now clean) Twitter account. Also, tweets you delete cannot be recovered in any manner. So, if few tweets in your account are very important – save them and then start the Twit Wipe routine.