If you receive lot of email messages with attachments in Gmail, then changing attachment icon based on attachment file type can be very useful time saver. "Gmail Attachment Icons" Chrome extension allow you to replace the default paper clip icon by icons with kind of attachment an email has in Gmail inbox.
Gmail attachment icon based on attachment file type
1. Open your Google Chrome browser and goto Gmail Attachment Icons extension webpage.
2. Click Install button to download and install Chrome extension.
3. After installation, login into your Gmail account in Chrome browser.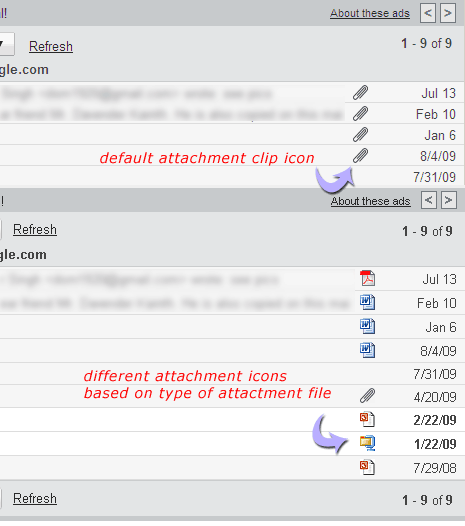 4. Then view emails with attachments. For this use search operator filename:(pdf OR doc OR xls OR ppt) OR docs.google.com OR spreadsheets.google.com in the Gmail search box at the top.
You will see colorful icons next to attachment as against boring paper clip icon. It will display zip, MS Word, PDF and other icons based on type of attachment file for specific email message in Gmail inbox. For sure one excellent time saver to easily know type of attachments without opening individual messages.