A good security software is a must for every computer user. It keeps system free of virus, spyware, worms and other malicious stuff. Like many other security software makers [for example AVG free] – BitDefender is offering free edition of its security software that offer basic protection to your computer.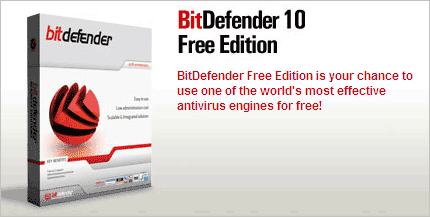 Related – 5 Free Anti Virus Software to Protect your PC
It supports on demand virus scanning and removal of mallicious threats detected during scan process. You can schedule scanning for specific drives at time computer is idle. You can also perform quick scanning of any file or folder with simple right click procedure.
It neatly isolates infected files in quarantine. thereby reducing the risk of getting infected. You also have the possibility to send these files for further analysis to BitDefender Labs and access previous scan result reports. Download BitDefender 10 free [via] and keep your system secure from malicious threats.