Beijing Olympics 2008 – 'One World One Dream', biggest sporting event of our planet goes Live in 9hrs (GMT +8) from now. Olympics will be flavour of the 'August' month from August 8-24, 2008.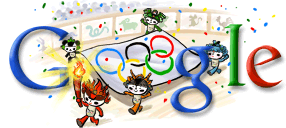 Google has already joined Olympics opening ceremony with its Olympics special logo 'doodle'. Here is comprehensive recap for better viewing of Olympics action.
Olympics fever is every where, watchout for opening ceremony in few hours from now. Olympics provide one cool way to unite countries world over – extravaganza is about to begin!