Olympics fever is about to begin. Besides the live action on TV you can also catch the same on your computer. While NBC has partnered with Microsoft to bring exclusive Olympics portal, it has also partnered with TVTonic to deliver live action on your computer.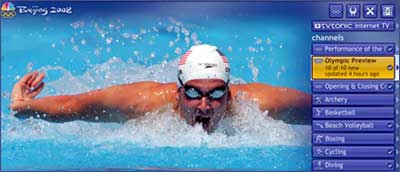 Using TVTonic you will be able to subscribe to your favorite Olympic sports and watch the action from Beijing, free of charge. Video is cached on your PC for you to view in up-to-HD quality.
On any Windows Vista Ultimate or Home Premium PC, you will find NBC Olympics On The Go in the Online Media section of Media Center. Simply select the tile to initiate the free download.

For Windows XP computer you either need Media Center installed or watch the coverage in Internet Explorer 6 or later. There is loads of content access using TVTonic and its all free supported by advertisements.
You need to high speed broadband connection (preferable no-limit restriction account) as it keeps downloading video content in the background to make it available at the click of a button. Download TVTonic to enjoy Olympics on your computer.
Related – Download Microsoft Silverlight to watch Beijing Olympics live