Latest Google Chrome (13 and above) has new Instant Pages feature powered by Chrome's prerendering technology. Instant Pages feature may be enabled by default in Google Chrome browser on your computer. This feature promises faster webpage loading in Google Chrome browser. Prerendering technology allows Google Chrome to predict next user click on specific webpage and thus it preloads that webpage(s). Once you click to open that webpage(s), it opens much quicker than normal due to prerendering as a result of Instant Pages feature in Google Chrome.
What is Prerendering 'Instant Pages' feature in Chrome
Websites can add special Prerendering syntax to allow Google Chrome to predict user behaviour while opening webpages in specific website. When a website is confident about predicting what link you might click next, the site can tell Google Chrome to pre-load or prerender it.
Video Demo: Instant Pages in action in Google Chrome
For example: In a blog layout, user is expected to click next post link majority of times. Hence, Chrome can preload the next post webpage for instant loading.
Change 'Prerendering Instant pages' Chrome setting
1. Make sure you are using latest Google Chrome browser version (13 or above). To update Chrome to latest version, click on wrench icon and then click About Google Chrome option for automatic updating. After update, restart Google Chrome browser.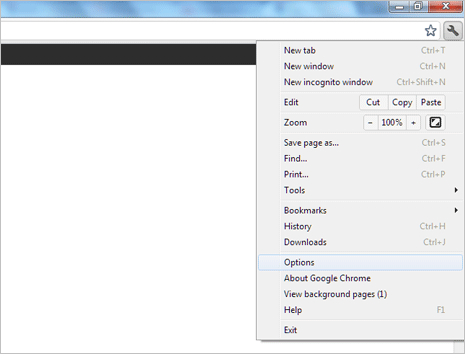 2. Open Google Chrome, click on Wrench icon and then click on Options. Then click 'Under the Hood' tab on the left sidebar. Now you should see lot of options under different sections like Privacy, Web content, Network, Downloads and so on.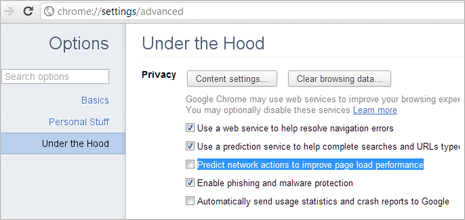 3. Then look for "Predict network actions to improve page load performance" option under Privacy section at the top. If this option is checked (with tick) then instant pages option is enabled. If this option is not checked (no tick), then instant pages is disabled and turned off in Google Chrome on your computer.
Video: Change Prerendering Instant pages Chrome setting