Once new Windows 8 operating system is launched with stable release, majority of existing Windows users will like to use it. Windows 8 is a natural upgrade option for Windows 7, Vista (and even for XP) users. It carry forward all basic features of Windows 7 operating system. Windows 8 also introduces new direction for Windows OS by introducing touch gestures. Hence, you should find Windows 8 operating system on touch based tablet devices in addition to usual desktop PCs and laptops.
Will Windows 8 work on my existing Windows 7 PC

Resounding answer is YES with few exceptions in regard to specific features. Existing Windows 7 users can switch to (with clean install or direct upgrade) Windows 8 operating system without any issue, subject to options provided by Microsoft at the time of Windows 8 release. All basic features and functionalities of Windows 8 operating system should work on your existing PC or laptop running Windows 7 operating system as of now.
Exceptions are related to touch based features. Since Windows 8 introduces touch gestures, these features will not work if you do not have touch supporting monitor display or device. However, majority of gestures can be implemented using mouse movements (that will work for sure!).
Can my PC hardware support Windows 8 install

As discussed above, Windows 8 does not require any new or radical hardware upgrades. A PC running Windows 7 hardware is good enough to support Windows 8 installation and use. No wonder, minimum hardware requirements for Windows 8 are quiet similar to that of Windows 7 operating system.
Minimum system hardware requirements for Windows 8 include: 1 gigahertz (GHz) or faster processor, 1 gigabyte (GB) (32-bit) or 2 GB (64-bit) of RAM memory, 16 GB (32-bit) or 20 GB (64-bit) free hard drive space for installation and Microsoft DirectX 9 graphics device card or higher.
Will my programs & devices work on new Windows 8
Once decision for possible upgrade to Windows 8 operating system is done, next step involve checking for compatibility of your existing application software, devices and gadgets with Windows 8 operating system. There is no definite answer to this question, as answer depends on which program or device you want to use on Windows 8 PC.
For example: few users might be interested in knowing if there existing printer, scanner, web-cam device will work on computer with newly installed Windows 8 operating system. Same goes for checking compatibility of application software like Adobe Photoshop, Nero Burning, Real Player, games like Grand theft auto, call of duty, mass effect and so on.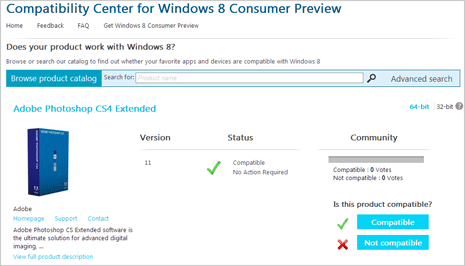 Fortunately, you can easily check for compatibility of specific gadget, device or software with Windows 8 operating system by visiting Windows 8 compatibility center. Browse to software or device from listing on left side or use search box for quick results. Tick mark indicates compatibility and work-ability status – while cross sign indicate specific device or software is incompatible and will not work.