For starters, portable apps are applications / utilities that are truly portable, which you can carry and use from a USB flash drive, iPod, memory card, portable hard drive or other portable devices.
AppCompactor is a cool app that allows you to compress and shrink portable apps you use. Using this, you can reduce size of portable apps and fit more apps on your USB stick.
Besides reducing the size of portable apps, it improves performance as a result of compression. As pointed by Lee, it produces really good results in attempt to compress size of portable apps.
CCleaner size was reduced by 40% to just about 760K
ArtWeaver app got 10MB reduction with final size of 3.1MB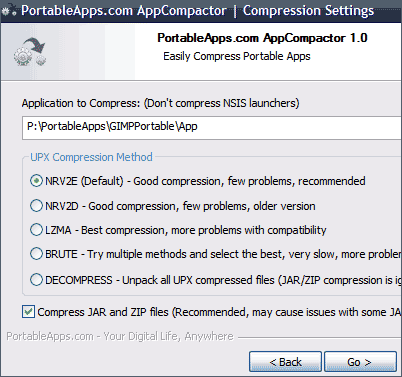 However, this compression does not work on all portable apps. Depending on the files, it can decrease an app's size by 50% or more without affecting functionality. It is a very good and easy way to reduce size of portable apps and make them work quicker. Download AppCompactor