Bored of reading all the text, then head to SpokenText online service which will convert text into voice for your reading pleasure. A very simple but highly useful concept of converting your text documents into voice, which can saved as Mp3 files for further usage.
This FREE online allows you to record (English, French or German) PDF, Word, plain text, PowerPoint files, RSS news feeds, emails and web pages, and converts them to speech automatically. Also, you can download your recording as an iPod book or mp3 file. Following snapshot explains the functionality of this service: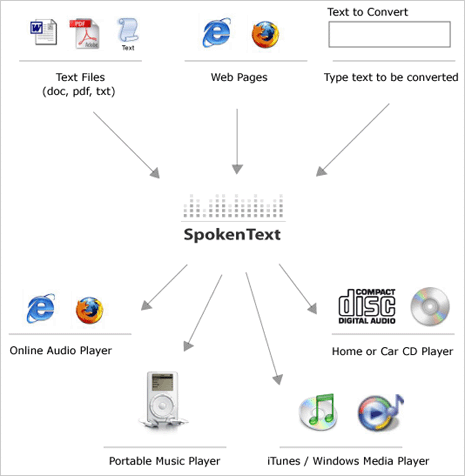 Here is more, every member gets a personal podcast URL, which you can use to download recordings to iTunes or your iPod. You can also easily share your recordings on your web site or blog using SpokenText Badges or individual recording players.
SpokenText: Website – Register – FAQs – FireFox Extension 
You can also use SpokenText FireFox extensionto access the service with ease while surfing web in FireFox browser. Just select the text and click the Record Selected Text button from the SpokenText tool bar and you are done. Need to convert some documents now, what say?