Almost every user download and listen audio content in Mp3 format. Sometimes, Mp3 files are corrupt and does not playback in full. MP3val is a portable tool to find and fix corrupt Mp3 files on the computer. It can repair Mp3 audio files that are corrupt as a result of incomplete download and are truncated or containing garbage etc.
MP3val repair & fix Mp3 audio files
1. Download MP3val repair tool.
2. Unzip and double click to launch the program.
3. Goto File to add files or folder containing multiple files.
4. Goto menu option Actions > Scan all to start scanning.
5. Under status column you can see result for scan as 'OK' or 'Problem'. You can see details of problem at the bottom status window.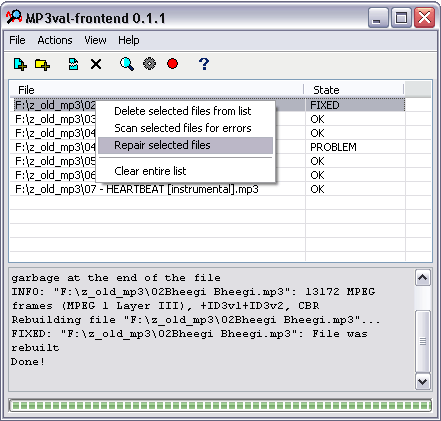 6. Right click on mp3 audio file marked as problem and then click 'repair selected files'.
This utility will instantly repair corrupted Mp3 audio files in quick single click. Ready to repair your Mp3 collection? or looking to repair damaged ZIP files?