Ever wanted to record your Skype conversation to review on your points of discussion?
If yes, then Call Graph is a cool free alternative to record your Skype calls. It is a simple and useful plugin for Skype to record calls.
You can also create podcasts and directly store the audio in 128 Kbps bit rate in Mp3. Recording can  be stopped anytime during the call. Besides stopping, you can resume the recording any time during the call. Other features of Call graph includes:
Call Recording, it automatically record calls as MP3 File.
Full Skype support, record Skype to Skype, SkypeIn, SkypeOut calls.
Manage Records, use tags to mark your records.
Integrated Search, use tags to search through your calls records.
Simple, minimal interface, easy to use, un-annoying.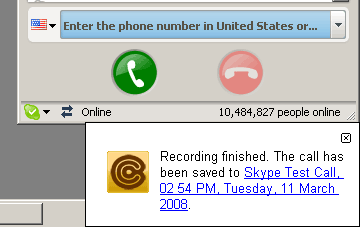 This is a completely free application with no restrictions. Applications sits in your Window's taskbar and provide you active notification regarding status quo. Download Call Graph and get set to record your skype conversations.