Windows 7 and XP do not have auto eject CD drive tray feature. However, auto eject feature in Windows Vista can be very annoying (specially if your PC case hides the cd dvd drives behind a cover). You can easily disable "Auto Eject" feature of optical drives on Windows Vista PC using "Disable Auto Eject" portable tool.
Turn Off auto eject CD drive feature
1. Download Disable Auto Eject tool on Windows PC.
2. Launch the tool and click "re-enable" button to disable auto tray eject functionality.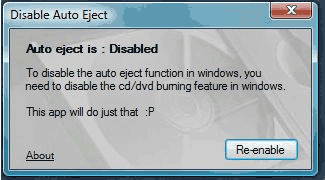 To disable auto eject CD tray feature, this tool turns off the build-in cd dvd burning feature in Windows Vista. Even after disable, you can still burn data on CDs DVDs using other burning tools like Nero. This tool requires administrator rights and .NET 2.0 on the computer.