Are icons on Windows desktop too big or small? There are number of ways to customize size of icons on Windows desktop. You can resize desktop icons and make them bigger or smaller. Checkout following easy to use procedures to change icon size quickly on your Windows powered computer. 
Resize with right click menu option
1. Right click on empty space on the desktop.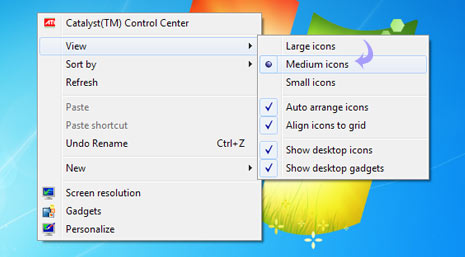 2. Go to View and select the size, either large,medium or small.
Resize with Mouse Wheel shortcut
You can resize the icons using mouse wheel. Press and Hold Ctrl key and scroll the mouse wheel up or down to re size the icons.
Custom resize using registry file
You can also resize the desktop icon using registry file to various sizes like: 16px, 24px, 32px, 48px. Use any method to customize icon size as per liking.