DNS cache store name resolution information of websites you visit. If flushing DNS cache does not fix corrupt or bad DNS issue, you can disable DNS cache client service to turn off DNS caching on Windows system. This can be easily done by executing commands in the command prompt window or manually changing settings.
Temporarily disable DNS caching
1. Goto Start > Run and type cmdin run box (or in default search bar in Vista & Windows 7). Make sure you are logged in as administration. Right click cmd and then click 'run as administrator' option.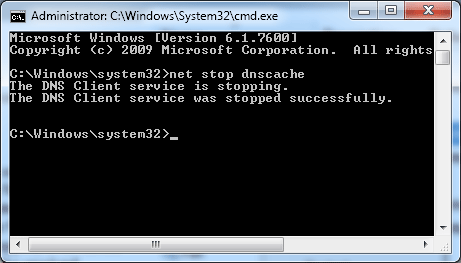 2. Then use following command in the command prompt window to disable client-side DNS caching on Windows sytem.
net stop dnscache
Above command will disable DNS cache for current session. DNS cache will be set to enabled on next system reboot or restart.
Permanently disable DNS caching
1. Goto Start > Run (use default search box on Windows 7, Vista).
2. Type Services.msc in Run or search box.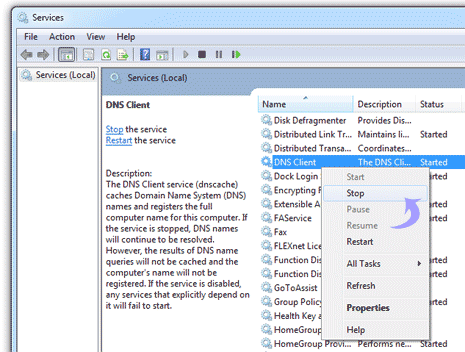 3. Check for DNS client service in the listing.
4. Double click on DNS client service and then stop button.
You can enable it back by clicking start button after double clicking on DNS client service listing.