Do you want to insert a special character in a specific project? Special character are unique symbols other than usual English alphabets. You can easily access full list of special characters on Windows computer using 'Character Map' feature. Using this: you can view, copy, insert and paste special characters to different porgrams or projects on Windows 7, Vista & XP system.
Open Character Map on Windows
1. Goto Start > Run
2. Type charmap.exe in run box & click OK button.
3. Character Map window will open. Double click on any special character. Then click copy button.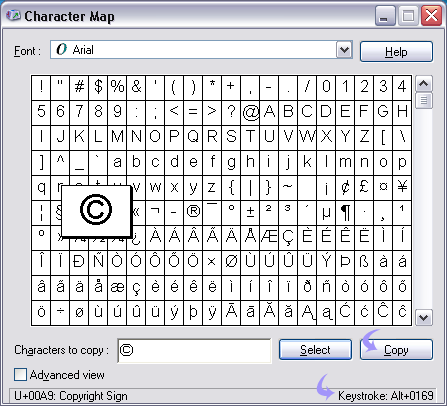 4. Open any application where you want to display the special character. Just paste the special characters and its done.
You can also see associated keystroke to generate selected special character at the bottom right of character map window.
Don't have Character Map? Install this feature
1. Goto Start > Settings > Control Panel > Add/Remove Programs.
2. Then click Windows Setup tab.
3. Click System Tools & then click Details.
4. Click to select Character Map check box and then click OK.