Windows Hosts [WinHosts] file contain mapping of IP addresses for specific domain URLs (For example: 127.0.0.1 localhost). You can edit to add or remove specific IP address and respective domain URLs on Windows computer throught WinHosts file. Such IP address editing has lot of uses like speeding up website opening or blocking specific websites.
Manually edit WinHosts file on Windows PC
1. Goto Start > Run. Type notepad c:\WINDOWS\system32\drivers\etc\hosts command & and then click OK button.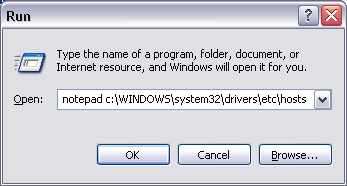 2. A notepad window will open with text content. Scroll down at the bottom to view IP address and host information (like: 127.0.0.1 localhost). Here you can add URLs with 127.0.0.1 IP address to block them (like 127.0.0.1 facebook.com). Detailed procedure here
Also, you can specify correct IP address against specific URL to speed up website opening. Ideally, browser will convert facebook.com into respective IP address and then open the website. If this IP address conversion information is already stored in WinHosts file, website will open more quickly. However, a large size WinHosts file can slow down your PC – be careful!
Automatic tools to edit WinHosts file contents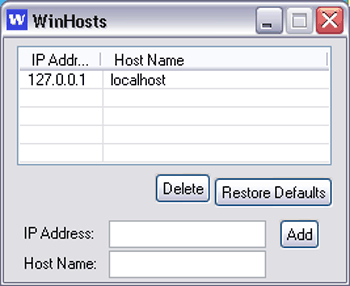 WinHost bss is a free program to quickly edit WinHosts file on Windows PC. It has portable version, just download and extract contents in specific folder. Enter the IP address, Host name and then click add button to update WinHosts file. If you enter 127.0.0.1 IP address for any domain, it will be blocked. If you add correct IP address for specific domain, then website should open quickly.