'Gregorian' date format or calendar is used by majority of people throughout the world. However, Islamic countries use Hijri (Hijra Calendar) for their religious and date reference purposes. Are you looking for easy way to convert Hejri date into normal Gregorian date? Free tool "Hijri calendar converter" makes this all easy and quick.
Convert Hejri to Gregorian date
1. Download Hijri calendar converter program & unzip it.
2. Goto vb.net folder & double click 'HejriConversion' icon to launch.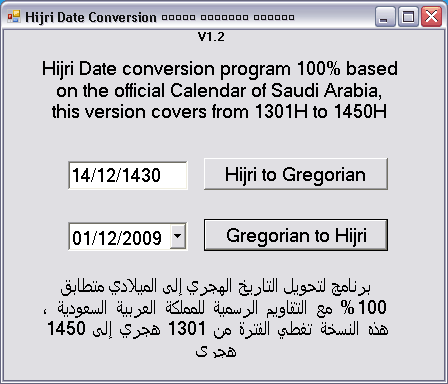 3. Select date either format and click respective button for Hijri to Gregorian or Gregorian to Hijri date conversion.
Also See – Display Hijri date in Firefox status bar
This tool is based on Official calendar of Saudi Arabia from 1301H to 1450H. Handy portable tool for specific use of Hejri to Gregorian date conversion.