IP addresses can overwhelm anyone due to all numbers and so many of them. Ideally, one has to reference back to check country name / location for each IP address. IPInfoOffline utility makes this process real easy by automatically showing country names associated with list of IP addresses.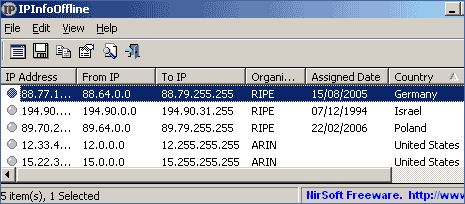 Related – View IP address in a cute window with ShowIP
It is a portable utility, just download and start using it. Enter IP address or paste the list of IP address. It will neatly show details associated with each IP address including: From-to IP address, country name, assigned date etc. If you deal with lot of IP information, download IPInfoOffline utility [weblink] (or carry in your USB drive) and get country information real quick!