Do you love the "tick tick" sound while using a typewriter? Get the old style typewriter sound while using new style computer keyboard using 'Qwertick'. It is a free portable utility that adds typewriter tick sound to your PC keyboard. So at every key press on the keyboard you will listen the vintage typewriter tick sound.
Listen typewriter sound at each key press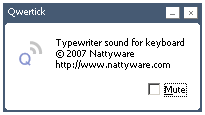 1. Download Qwertick utility program on the computer.
2. Double click to activate and launch it.
3. Utility sits on the system tray. Just press any key on the keyboard and you should hear typewriter tick sound at each key press (make sure speakers are turned ON).
You can double click the Qwertick icon on the system tray to open settings window. Click to check mute option to turn off typewriter sound at key press anytime. Besides having some fun, this utility keep you awake while typing and also addresses to writer's block to some extent.
If you want to hear sounds other than Typewriter 'tick tick', then grab Clickey utility that has 26 different sounds for different key strokes on computer keyboard.