Are you looking for an easy way to edit information details of mp3 files on your computer? Moo0 Mp3Info Editor makes viewing and editing of mp3 file information easy and super quick. It is a free application to edit mp3 file details including: title, artist, album, year, tracks, genre and comments. Just drag N drop any mp3 file into application window and quickly edit mp3 file details.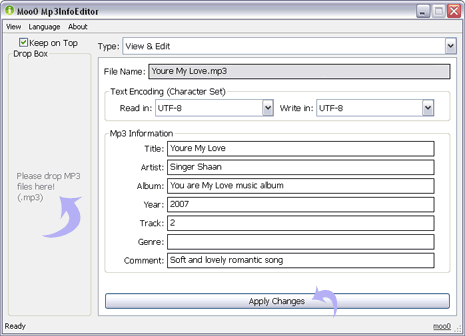 Related – Merge & join multiple mp3 audio files into single mp3 file
You can select different text encoding for any mp3 file. Select the encoding format using "Read in" and "Write in" drop down boxes. It has neat and simple interface to facilitate the task of viewing / editing mp3 files information details. Download Moo0 Mp3Info Editor for quick editing of mp3 files with easy to use drag – drop support.