Are you looking for dead simple way to merge multiple mp3 audio files? There are number of free and paid software to cut, edit and merge mp3 files. However, most of these software leave user confused and going through tutorials in performing simple task of editing audio files.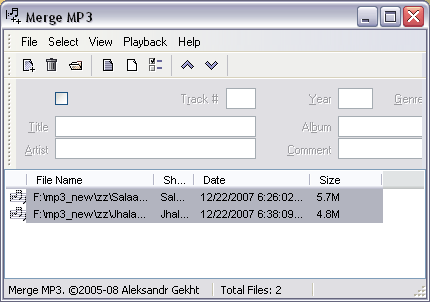 Well, cut the crap and perform this simple task of merging multiple audio files with a super simple application "Merge MP3". It is a free application which does not require installation. Just download, unzip and start using. It does not have whole hog of features but does the basic task of merging mp3 files like charm.
To get started, goto File > Open and add mp3 audio files into the application. Select two or more mp3 files added to the application and then goto File > Merge. You will get pop-up window to select the location where final merged file will be stored. Select the location, enter name for final merged file and click save button. In few seconds this will create merged mp3 file from selected mp3 files. You can re-order mp3 files as per placements in final merged mp3 file. Download Merge mp3
Basic Audio editing made simple
If you are looking for easy way to create a soundtrack from pieces or parts of your favorites mp3 songs – then first cut the selected parts of mp3 files using MP3 cutter and then merge snipped mp3 files into one Mp3 audio file using above utility. Easy, simple and quick, isn't it?