Each camera brand has own specifications to process raw information to able to produce JPEG / TIFF image files. Users can convert digital camera raw files into more universal file format DNG (digital negative) as it is a safer file format to use for long term image archival purposes. Archiving your file as a digital negative (DNG) eliminates worries that the raw file will no longer be readable once the camera that created it becomes obsolete.
Free DNG converter for converting raw files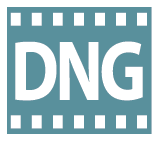 1. Download Free DNG converter for Windows or MAC system. Download links at right side under 'downloads'.
2. Drag image files on DNG converter icon for quick start conversion process. Alternatively, you can double click converter icon to launch the program.
3. Then select folder containing image files for conversion. Also select folder where final converted DNG files should be saved.
4. Select the name to save DNG files. Preferences are set to apply lossless compression and preserve the mosaic format by default. You can change those preferences by clicking on Change Preference.
5. Click Convert button and you can track the conversion process.
DNG format is supported by majority of popular digital camera brands including: Canon EOS 550D (Digital Rebel T2i/ EOS Kiss X4 Digital), Kodak Z981, Leaf Aptus-II 8, Leaf Aptus-II 10R, Mamiya DM40, Olympus E-PL1, Panasonic G2, Panasonic G10, Sony A450. You can also import DNG format files into Adobe After Effects & Premiere programs.