We have already seen 5 cool tools to preview & compare fonts in web browser. Font Picker makes that process damn easy with both options of online and online mode.
Online web service show all the fonts installed on your computer. You can type the customized text (for example: 'tothepc') as in the image below. Then use scroll bar and see preview of that text with each font.
You can remove any font from the list using X button to narrow down on best options you like. Besides online quick font preview, you can also install this free application on your computer.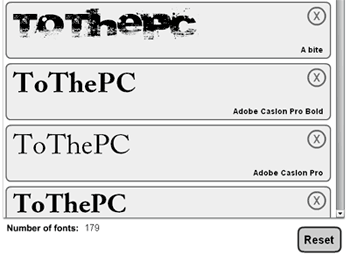 Font Picker is Adobe Air app, to get going in offline mode you need to install Adobe AIR and then Font Picker. This could be the easiest way to preview and play with fonts – your thoughts?