DivX Doctor II is a free and quick AVI to MOV Converter for MAC users. It can converts DivX .avi videos to 3ivx QuickTime (.mov) videos. After conversion, you can easily play .mov video file in Quicktime application. Besides conversion, it also fixes audio glitches inherent in the AVI format and allow smooth video playback on your MAC.
DivX Doctor II for AVI to MOV conversion
1. Download DivX Doctor II converter for MAC.
2. Drag AVI video file in the application window.
3. Click Start button to get video output in MOV format.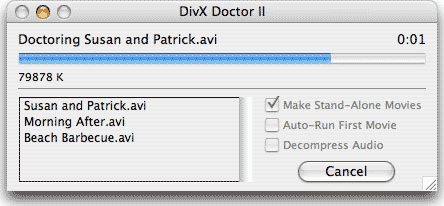 If you hear beeps, means file you dragged into application window is not an AVI file – check on that. After successful conversion play your video file in Quicktime (now in MOV format). Quick and easy conversion!