Are you looking for simple, free and effective tool for quick PDF to text conversion? PDF technologies 'PDF to Text' conversion tool is handy way to convert PDF document into plain text file. It provides lot of options to configure for PDF to text conversion like selecting layout, encoding and page number for conversion process. It also has support for HTML meta, page breaks and image extraction.
PDF to plain text file converter
1. Download PDF to Text converter. Install the program on the computer.
2. Launch the program & select any PDF file on the system.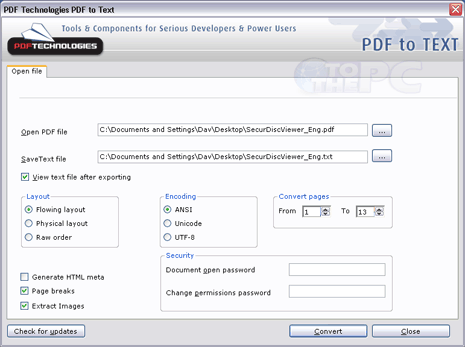 3. Click Convert button to quick conversion and saving of selected PDF document as plain text file. You can configure options of encoding, layout and more.
More resources for PDF to Text conversion
Also check helloPDF converter for free conversion of PDF file into Microsoft Word documents. You can also perform reverse conversion by using 3 ways to convert PDF Files into Flash or Web Format. There is also online alternative to convert any URL webpage into PDF document.