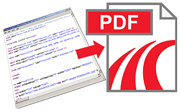 Just like PDFonFly, there is another online tool to convert any webpage into PDF Format. Html2pdf, as the name suggests can convert any webpage in PDF format.
Simply enter the URL or paste the HTML code in the window provided. Click on 'convert to PDF' and your PDF file is ready.
You can select two options while performing this conversion – include or exclude Flash movies and making links active or inactive in the resultant PDF file. This tool has easy to use interface.
Html2Pdf – Click here to convert webpages into PDF with Html2Pdf
Here are few more PDF Tools to make your Techno Life easy while working with PDF Files.