Web designers are familiar with problems different web browsers cause to their web design creations. Internet Explorer 6 is most notorious for sending web design for a toss and breaking up the look of a website. Adobe Labs has launched online web service to check for website look in different web browsers online without having to install anything.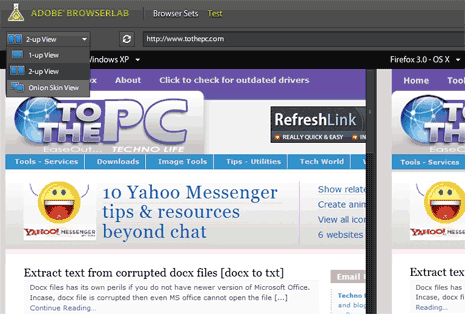 To get started, you need to login using Adobe ID (wonder WTF?). Enter the URL of webpage you want to check and then select the browser compare view among different options like: 1-up view and 2-up view. There is also an interesting Onion Skin view than morphs display of website as seen in two different browsers for exact dimension and placement comparison.
Currently, this web tool only supports limited number of web browsers including: Firefox 2.X and 3.X (Windows XP and Mac OS X), Internet Explorer 6.X and 7.X (Windows XP) and Safari 3.X (Mac OS X). Test drive Adobe BrowserLab and check if your favorite website look all OK in different web browsers. Alternatively, try more feature laden BrowserShots service.