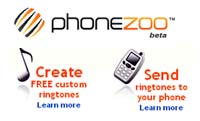 Ringtone on your phone reflect your personality, really? Well it surely indicate your music taste and choice, isn't it? Getting that unique or popular ringtone isn't that easy without a price. However, Phonezoo aims to change that.
It allows you to make free mobile content and share them with ease. You can turn the music you already own into custom ringtones and get them on your phone.
You can also explore the ringtones other members of the Phonezoo community have created and rate them, comment on them and get them for yourself for FREE. Here is the simple procedure:
Login into Phonezoo & create an account.
Upload the sound file & edit it in online editor.
Best format is select for the ringtone & it is ready.
Share & see what others are listening in community.
Website has listing of loads of free content. For example Ringtones are categorized like: everyday Sounds, holiday, humor, movies & TV, music etc. Phonezoo, another example of user generated content!
PhoneZoo: Website – Ringtones – Jokes
With users involved, hope they are ready to tackle some copyright content being uploaded by some of the members. Otherwise they may face same music like Youtube has become accustomed to 'Copyright violation.. blah blah'. Anyway, very good venture for mobile lovers.