M3U is a standard format for music playlist. It is a text file containing location of multiple music files (mp3, wav & more) stored on the computer. M3U playlist format is support by majority of popular music player programs. You can create M3U playlist of favorite songs and then open single playlist file to listen those songs. M3U playlist can be created through manual method or using free M3U playlist creator software.
Manual method to create M3U playlist
1. Goto Start > Run & then type notepad in run box & click OK. Alternatively, goto Start > Programs > Accessories and click Notepad.
2. Now make text file with full path mp3 files to be included in this list. For example:
c:\windows\media\chord.wav
c:\Documents and Settings\Users\Desktop\beats.mp3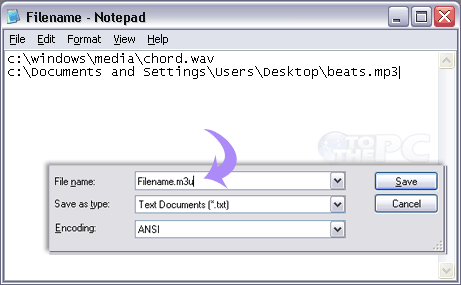 3. Add full path of multiple music files (one filename per line). To get exact address / location of music file, browse to folder with music files, then copy location from address bar and add file name in the end with proper extension (like beatles.mp3)
4. Now goto File > Save to save text file as M3U playlist file. Make sure you save file with m3u extension like Filename.m3u
5. Double click created M3U file to listen songs listed in the playlist.
Free Playlist creator tool, Oplisker
Oplisker is a free tool to quickly create M3U music playlist files. Launch the program and select folder containing music files. Then click OK button to automatically generate M3U music playlist file (in the same selected folder).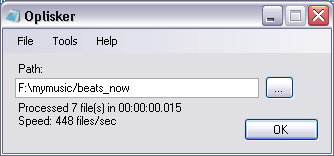 You can also check option "Generate one file" under Tools menu for single playlist file. Download Oplisker, simple and easy to use M3U playlist file creator software.