There are third party (not so legal) utilities to download music files from your Google Music account. However, these are not required anymore as Google Music has added 'Download Music' feature to Google Music accounts. With a click of a button you can download and save one or more music tracks (files) from Google Music account to your computer or mobile computing device.
Downloading music files from 'Google Music' account
1. Open music.google.com website and login into your Google Music account. Click on Songs option on the left side menu. This will display list of songs uploaded (purchased or already included) in your Google Music account.
2. If you want to download single song track: single left click on it and then click on small arrow on right side to pop-up options menu. Click 'Download Songs' option to start song downloading and it should be saved on your device once downloading is complete.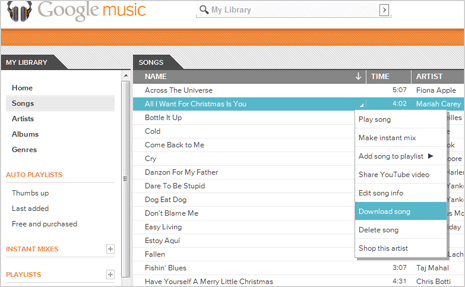 3. To download multiple songs, use shift key and left mouse key to select multiple songs. After selection, click right arrow on either of selected song and click 'Download Songs' option to start song saving routine on your computer.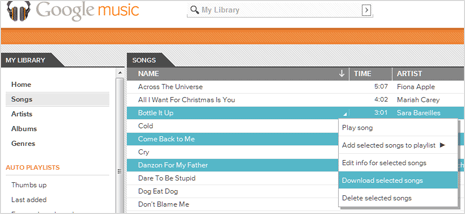 4. To download complete music library, launch Google Music Manager software on your computer. Click on 'Download' tab at the top. Then click 'Download purchased music' or 'Export your library' buttons to download and save entire music albums library on computer from your Google Music account.