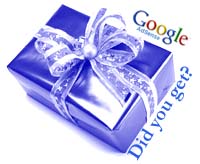 In few days from now gifts will fly among friends to celebrate Christmas and New year. Well, it is not just individuals like you and me even big companies love to send out those lovely Christmas Gifts.
Our big G, Google has started sending out gifts to its users this holiday. Users of Google Adsense are getting good surprise gifts, besides the usual fat cheques.
Last year Google Adsense gave Digital Frames and this year it's 2 GB USB Memory card and a Greeting Card.
Is Gift for all Adsense Publishers? Well, not really. They seem to be sending out gifts to big Adsense Users like Amit of Digital Inspiration, who got the Google gift with a twist. Somebody in Indian Postal Department opened to parcel and stole 2GB Memory Card. Amit only received Google Greeting Card.
Did I receive the Gift? Again the answer in NO. Probably Google will remember me next year during Christmas time!
Hey, how about you? Did you receive any gift from Google Adsense along with cheque???