Google has updated terms of services with an important change of Shared Endorsements in Ads option "How your Profile name and photo may appear (including in reviews and advertising)". This option of "Shared Endorsements" allow Google to use your Google+ profile name and photo in advertisements. For example: you have liked specific album on Google Music, while showing sponsored listing of that album to your friend – your profile name and photo may appear indicating your +1 to that specific album.
Disable Shared Endorsements in Ads on Google+
By default, shared endorsement option is enabled for every user above 18 years. This implies, that your google+ profile photo and name is open to be displayed in endorsements that appear in advertisements. Fortunately, Google provide an easy option to disable shared endorsement. Once disabled, your google+ profile photo and name will not appear in advertisements at all.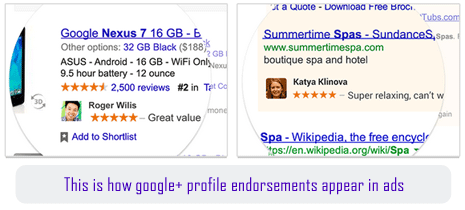 1. Open google.com/+ website and login into your account. Then click on Home on the left side and click Settings option. This will open Google settings page of your account.
2. Click Edit button next to Shared Endorsements section. On next page, Google displays complete description of this feature along with image screenshots.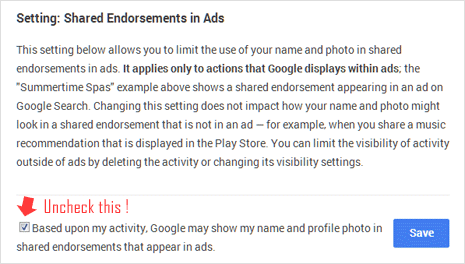 3. Scroll to bottom and uncheck (no tick) "Based upon my activity, Google may show my name and profile photo in shared endorsements that appear in ads" option. Then click Save button to confirm changes.
Video: Stop use of Google profile photo in ads
If you are under 18 years (according to information in Google profile), then endorsements in ads option is disabled by default for you. You may see endorsement of other users in ads appearing to you but your name or profile photo won't be displayed to other users at all.