Some apps in the App Store has auto renewing subscription and they auto renew automatically after specific subscription period like 7 days, one year and so on. You can check for this in Manage App Subscriptions section on the Account Information Screen.
Turn Off auto renew of Apps subscription in iTunes
1. Tap App Store on the Home Screen of your device.
2. Then tap View Account. You need to sign in iTunes account, if not already logged in.
3. Now scroll down and tap Manage App Subscriptions option. If there is no active app subscription, then this option will not be displayed. Then choose App Subscription option.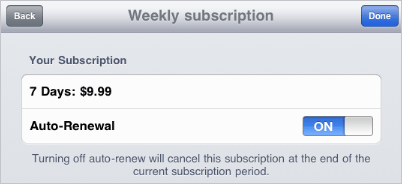 4. Now tap on the subscription category (like Weekly) for which you want to disable auto-renewal option.
5. Then tap to switch Auto Renewal option to OFF from ON status. You will get confirmation pop-up box, tap Turn Off to disable auto renew of specific category of App subscription in iTunes.