Do you use Skype software (and service) regularly to make audio and video calls? Skype has launched its very own dedicated App Directory with listing of Skype specific application programs. Skype App Directory neatly list various additional software programs available for Skype. These programs enhance and provide more functionality while using Skype services.
Skype App Directory to download additional tools
From now on, there is no need to search the internet for downloading additional tools and software program for Skype. You can browse Skype App Directory to download additional applications that work on Skype as useful business and productivity tools.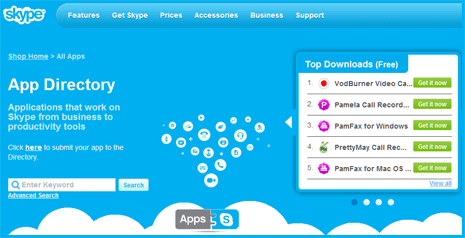 1. Click here to open Skype Application Directory. It lists Apps in a neat manner in the form of: new apps, top rated, top downloads (free) and top downloads (paid).
2. Featured Apps are listed for quick information at the top. Apps for both Windows and Mac users are listed with respective icons next to App listing indicating their availability for specific computing platform.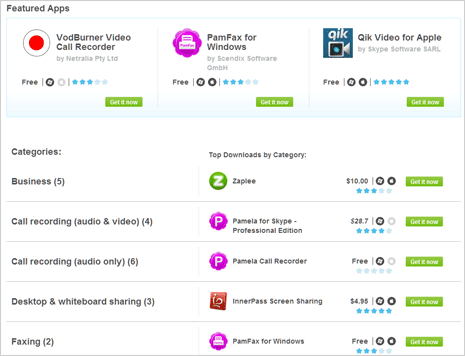 3. Further, apps are listed in category of their functionality. For example: apps for business, call recording (audio and video), desktop and whiteboard sharing, faxing, integration with popular software and mobile video communication.
4. Each category has both free and paid apps listing. You can view details of specific app and download it as per requirement. There is also advanced search feature to quickly find Apps of your choice.
Skype App Directory for sure is a useful resource for searching tools and resources for Skype. Also, if you are an application developer of software related to Skype service (or program) – you can submit your program to this directory for greater visibility and usage.