Are you annoyed with small bar appearing at bottom of webpages in Internet Explorer that reads "Only secure content is displayed" with "Show all content" button? This security bar is displayed when you are browsing webpages that serve content not considered secure according to strict Internet Explorer settings. For example, while browsing webpages with Facebook widgets, Facebook comment box, online games – this bar appears automatically at the bottom of Inernet Explorer window.
Disable 'only secure content is displayed' bar in IE
Continous display of this bar while browsing favorite websites like Facebook can be annoying. Fortunatley, you can disable this bar from appearing in Internet Explorer by revisiting IE settings. You need to make one change in Internet Explorer settings that should prevent this bar from appearing while you browse the internet in IE.

1. Open Internet Explorer browser and click Tools icon at top right. Then click Internet Options to open window with all custom settings of Internet Explorer.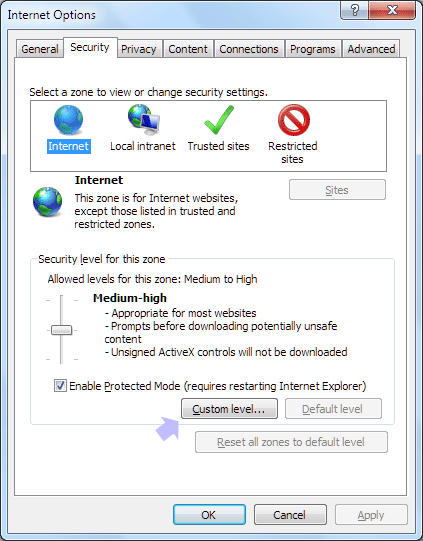 2. In Internet Options box, click Security tab at the top. Then click Custom Level button under 'Security level for this zone' section. Then in 'Security Settings – Internet Zone' box scroll down and look for 'Display mixed content' section. Click to select Enable option under 'Display mixed content'.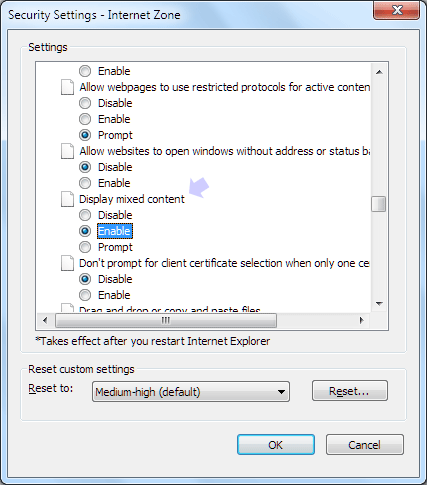 3. Click Yes on warning pop-up box. Then click OK to close settings box and also close all opened Internet Explorer windows. Restart Internet Explorer and enjoy browsing your favorite websites without that irritating security bar at bottom.