So In Contemplation Of, Appellative Terrific, Fame Chic, Smart Big-name, Declare Father, Tag Alias, Bonzer Style-conscious, Apt Trim….

Have you heard such names before? I am sure NO. These name have been generated using Nifty Namer. It is a free online tool to help artists, developers, inventors, who-ever to come up with a nifty name for their creations.
In more simpler terms, if you are in creative field and looking for a more creative names for your creations then head over to Nifty Namer.
You can even generate names on the basis of keywords. Just click on the 'Nifty Namer' title, enter 2-3 keywords and hit the enter key. You will get some related Nifty Names. Here is what I got for keywords "Computer Sucks":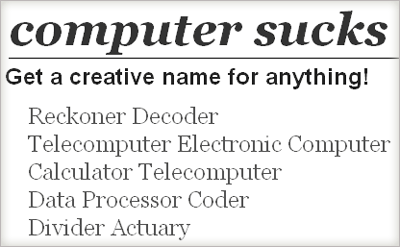 Not bad at all… NiftyNamer returns 5 random names based off the keywords you enter. To adjust the generated names, check the Alliteration checkbox to bias the words to alliteration. To control word size, adjust the min/max letter dropdowns.
NiftyNamer: Click here for Nifty Namer – About
Head over to Nifty Namer to discover some Nifty and unique names for your precious creations. A Final note, computer does not suck… I love world of computers!