Adobe software are amazing and come with heavy loaded price tag. Adobe is now doing what Microsoft started long back (remember Dreamspark?). Now you can download and use selected Adobe produts for free. This offer is valid for students, faculty and employees of educational institutes.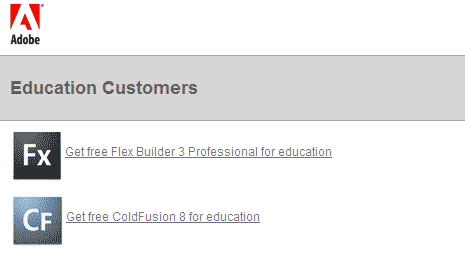 Related – Download or Order free Microsoft inspired posters
Currently, Flex Builder 3 Professional and ColdFusion 8 are available for free download and use. You need to show valid proof of eligibility which may include: student ID, employee ID, faculty ID etc. Check out details for Adobe Flex builder and Adobe ColdFusion free downloads at Adobe website. [via]
About these products: Adobe Flex Builder is an integrated development environment (IDE) built on the Eclipse platform meant for developing rich Internet applications (RIAs) and cross-platform desktop applications. While ColdFusion is an application server and software language used for Internet application development such as for dynamically-generated web sites.