Do you want to download everything ever posted by you on the Facebook account?Now you can download it easily including your messages, wall posts, photos, status updates, profile information and other data using download feature on Facebook. All the Facebook account information is downloaded as zip file. You can open the zip file and browse profile information, messages, photos offline on the local computer.
Download & save Facebook account data as ZIP file
Since you are downloading private Facebook account data, make sure you know the correct account password and answers to specified security questions to complete the download routine.
1. To get started, login into Facebook account. Then goto Account > Account Settings at the top right.
2. On the Settings screen, scroll down and look for 'Download your information' option above 'Deactivate account' option.
3. Click 'learn more' button next to 'Download your information' option.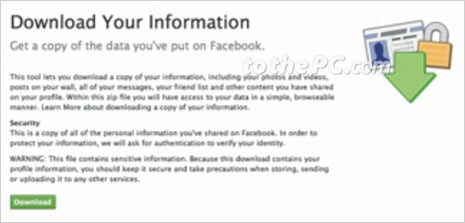 4. Next screen will inform you about type of data associated with Facebook account that will be downloaded on your computer. Click 'download' button to continue.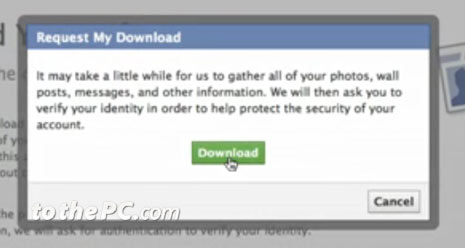 5. Then click 'download' button on 'Request My Download' pop-up dialog box. This will send an email with download link to email address associated with your Facebook profile.
6. Open that email message and click the unique download link.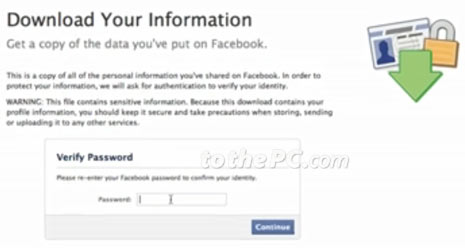 7. Enter correct password of your Facebook account and click 'download' button to start downloading of zip file containing all information of your Facebook account.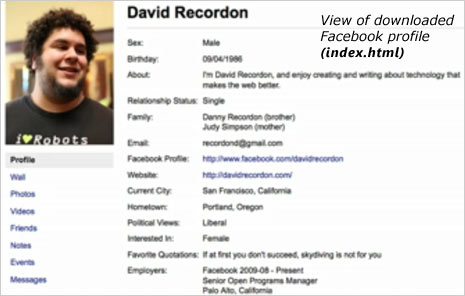 8. Once the zip file is download, double click to unzip contents in a folder. Then double click index.html file in the folder to view download Facebook account contents in neatly formatted manner.
You can click buttons on left sidebar to view other Facebook account information like messages, photos, wall, friends, events, notes and so on. [via Facebook Blog]