Mario has been all time favorite game for many people. We have seen this game in number of avatars. Jumping Mario to collect shiny coins and using balls fire power to toss out little creature. Add more fun is super animated and cool background music track. You can enjoy this cult 80s game on any modern device of today.
Play Super Mario game online in browser
Just open fullscreenmario.com website to play Super Mario game within your web browser without any need to download anything. It does not even have advertisements to annoy the game play.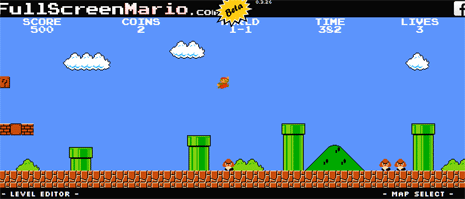 Use right and left keys to move in either direction, space-bar key to jump, shift key to fire, M to mute sound and P to pause the game. It even has level editor allowing you to save the current level game play to continue later.
There is another flavor of Mario game in the form of Super Mario Crossover. You can play this Mario Crossover game online in web browser at Newgrounds website.
Download Mega Mario game for free on computer
If you are fan of  Mega Mario flavor of this classic computer game where you need help Mario free his brother Luigi – you can download it free on computer and play it anytime. It has usual color splash with exciting background music.
Related – New Super Mario Bros game Wallpapers download
This version has little more blood red splash while you kill crawling creatures or get killed (this option can be turned OFF). It has number of levels to keep you hooked for long time while you find your way and collect coins. Download Mega Mario game (http://mmario.sourceforge.net), it is a portable game, just download and start playing (no install!)
UPDATE – Some users are reporting this game version is infected. No infection was found during our test, use discretion while downloading. Use this download link: http://mmario.sourceforge.net/