Just saw a cool video or listened to an interesting audio piece on MTV website, want to download it on the computer for future offline viewing? MTV Grabber tool makes this all easy involving few simple clicks. This tool allows you to download audio, video streams from MTV website and save them on computer for offline viewing. To get going: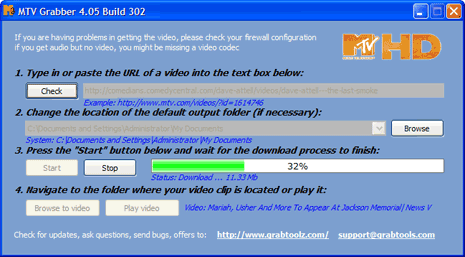 1. Download & install MTV Grabber tool.
2. Enter video URL of MTV website.
3. Browse to select folder to save final audio/video.
4. Click Start button to download & save audio/video.
This tool will save audio / video content on specified MTV website URL in the selected folder on your computer. After the download, you can play the downloaded audio / video in Media player application on the computer. Simple & neat, isn't it?