Want to play around and mix up mp3 audio file? Ideally this will require heavy loaded premium software with takes lot of learning to just use the program. Wave Editor has a free sound editor that helps perform basic audio editing and effects with very easy to use interface. Just load an audio file with either of format: MP3, WMA, WAV (PCM, ADPCM, GSM61, DSP, A-LAW, U-LAW etc.
Once audio file is loaded, you can perform basic editing like: cut, copy, paste and delete parts of recording. You can also add basic effects like: Fade In, Fade Out, Silence, Invert, Reverse and many more. You can select part of audio file using mouse and then right click for editing the selected part.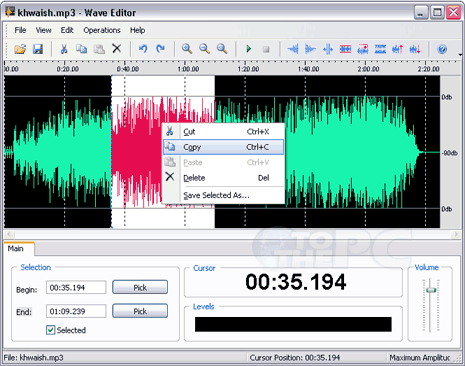 Besides being free, it is very easy to use audio sound editing software. It works fine on Windows platform: Vista, XP and 2000. Get creative and mix up few songs of your choice – download Free Sound Editor program.