Do you want to embed and display Youtube videos on your WordPress blog? There are number of WordPress plugins to extend functionality of WordPress and do more. However, you can easily insert and show any Youtube video player on WordPress blog post or page without any plugin script. WordPress has in-built functionality to show Youtube videos in blog post and also format Youtube video size as per your current content column width settings.
Add Youtube video to WordPress blog post / page
1. Login into your WordPress dashboard and goto Posts. Click add new for starting with new post. Alternatively, you can open any existing post and add Youtube video in that.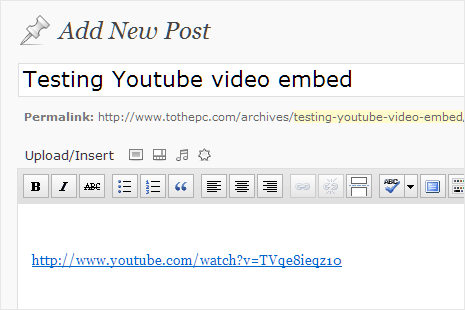 2. While in visual editor mode (NOT HTML, check at top right of editor window), paste the Youtube video URL that you want embed and show.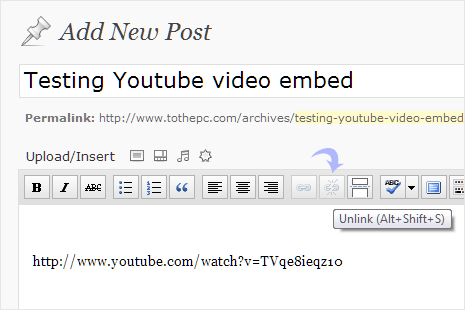 3. When you paste Youtube video URL, it will be hyperlinked in blue. You need to click on highlighted Youtube video URL and then click unlink button on editor toolbar at the top.
4. Now you can preview your WordPress post, Youtube video player should appear fine in your post or page content. If you do not see video, make sure you copied correct format of Youtube video URL – as explained below.
How to copy Youtube video URL to paste in WordPress
1. Open the Youtube video webpage. Do not copy URL from the address bar of Youtube video for using it in WordPress for embed purpose.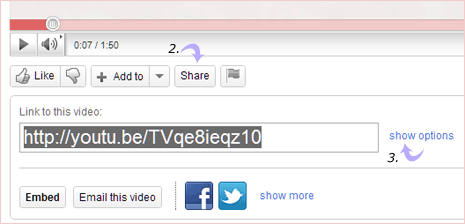 2. At the bottom of Youtube video player, click share button and you should see short Youtube video URL (in the form like http://youtu.be/TVqe8ieqz10). You may copy and use this URL format for showing in WordPress (it will work as well).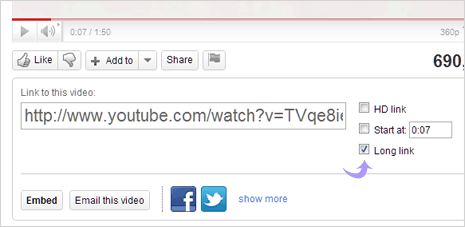 3. However, if you want to use the actual full format Youtube video URL. Click Show Options button and then click to check Long Link option. Now copy the long Youtube video URL (in the form like http://www.youtube.com/watch?v=TVqe8ieqz10)
Embed Youtube video in old WordPress versions
If you are using old version of WordPress software, then above method may not work. You can directly copy and paste the video embed code in 'HTML' view of post editor. But, this method has drawback – video will work fine but if you go to edit mode of the post with Youtube Video and save it again, video code will break and it will no longer display. Here is a simple and effective way to embed Youtube Video (of course without using any plugin).

1. Login into WordPress and click on 'write'. Then click on Kitchen Sink button on the right (marked '1' in image above).
2. In toolbar below, click insert/ edit embedded media  (marked '2'). In the insert / edit embedded media popup window, paste the URL against file/URL field and its all done.
You can further customize video display unit with number of option (check advanced tab for more). Is there more easy and effective methodto embed Youtube Videos, than this? [This article has been updated]