Facebook acquired Instagram and everyone was expecting the result of this acquisition. Here it is, giving bump to Facebook photo sharing and viewing functionality on mobile devices with all new "Facebook Camera' app. This Instagram wannabe app is not replacement for Instagram, however it does make photo sharing on Facebook from mobile devices much easier and enjoyable task with exclusive "friend updates feed showing nothing but their photos". As of now this app is only available for iPad and iPhone users.
Using 'Facebook Camera' app to quickly share photos
1. To download 'Facebook Camera' app point your mobile browser to facebook.com/mobile/camera URL. You should see app description page along with install / download link. If you see "unable to complete request message" – imply, this app is not available in your country or region as of now.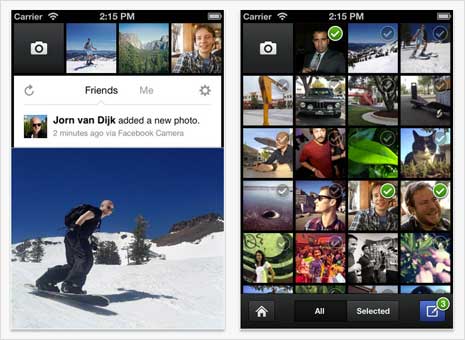 2. To get started, you can share existing photo or capture new photo on your iphone or ipad device. Tap the camera icon at top left corner and then you can edit, tag and review captured photo before posting on your Facebook wall.
3. You can also share and post multiple photos at the same time. Drag the feed window down to view photo thumbnails. Then tap the check-mark at top right corner of photos that you want to share.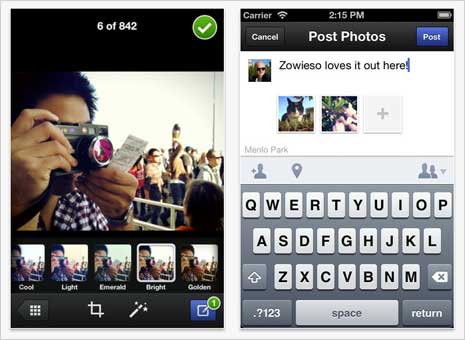 4. Basic photo editing & filters can be applied using this app (again, no Instagram killer here). You can edit photos with crop and rotate function. You can also apply either of available basic photo filters.
5. You can add location information to photos before posting them on Facebook. You can also tag, add comment or easily like photos using this application.
If you are iPhone or iPad user and love sharing photos on Facebook, then 'Facebook Camera' app will definitely make photo sharing experience more enriching. Besides sharing own photos, you can easily keep track of photos posted by your friends through feed showing just photo updates.